Start your Career with the World's Leading Provider of dialysis products and services
The figures are impressive: approximately 294,000 patients in over 3,400 company-owned hospitals around the world, and more than 44.6 million vital treatments of the highest quality per year.

They are the result of the hard work of our employees and a highly innovative company: Fresenius Medical Care.
Connect yourself to a better future
Are you looking for a rewarding career that offers fulfilment, recognition, and the opportunity for growth? Do you want to make a difference in the lives of those affected by Chronic Kidney Disease?

At Fresenius Medical Care we are committed to attracting, developing and retaining high-calibre team members. We offer different opportunities for a successful and rewarding career future.

For nurses, we offer different career opportunities with career matrix for your nursing career. If you have completed your professional nursing training and are now looking to start your career with an international healthcare company, don't hesitate to check out the openings with us! Non-renal trained nurses are also welcome!

If you would like to find out more about job opportunities with Fresenius Medical Care Singapore, please check our job postings on LinkedIn or contact us by completing this form.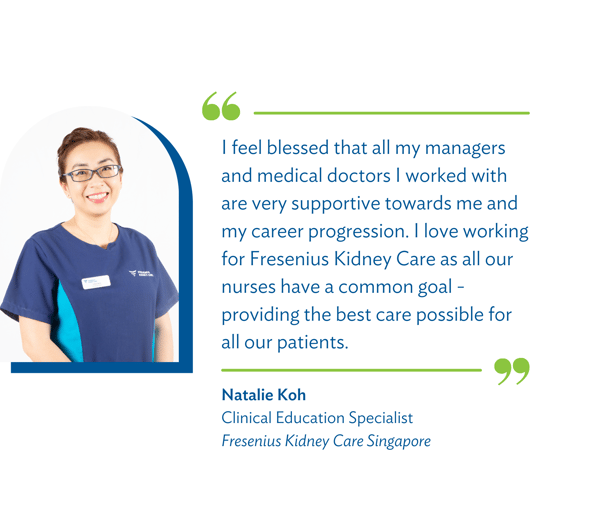 Join us now to create a better future together
Be part of a culture built on trust and an uncompromising commitment to patient care. Joining us will open doors for you to international best practices, and to be part of a team with the goal to improve the quality of life of renal patients.
The world leading provider of dialysis products and services that offer a variety of excellent therapy systems and services with the highest medical standards.
Career progression and self-development in different business functions such as nursing, clinical and other corporate and operational roles.
Preceptorship program and continuous training.
A variety of staff benefits and performance-related compensation to motivate dedicated employees.
Ongoing employee engagement and regular updates.
Our values
Our highly committed and competent nurses are providing high quality dialysis treatment to the patients to turn our vision into reality: To create a future worth living. For patients. Worldwide. Every day. We offer career opportunities with a structured nursing career path. Come and join us. We welcome non-renal trained nurses as well.
Career Opportunities
Enrolled Nurse
Our Enrolled Nurses support in providing nursing care to dialysis patients. They passionately assist registered nurses to achieve quality outcome in daily management in the clinic.

Staff Nurse
Our Staff Nurses provide quality treatment to our dialysis patients and play a vital role to jointly achieve quality outcomes in the day-to-day management of the dialysis clinic.

Senior Staff Nurse
Our Senior Staff Nurse will support the nurse manager and fill the role in their absence, leading and managing the dialysis clinic to deliver holistic care for patients. They will also assist with all aspects of clinic management to achieve maximum efficiency, whilst maintaining a safe environment for optimal patient care.

Nurse Manager
Our Nurse Managers lead and manage the nursing team to deliver holistic care for patients. This management role includes all aspects of clinic management to achieve maximum efficiency and cost effectiveness in the clinic, whilst playing the role model to mentor the nurses in patient care, from professional development of the staff to maintenance of high clinical standards and outcome. Nurse managers also get commercial exposure to work on special or ad-hoc projects as career development opportunities.

Creating a future worth living for patients worldwide, every day
Fresenius Medical Care is the world's leading provider of products and services for people with chronic kidney failure.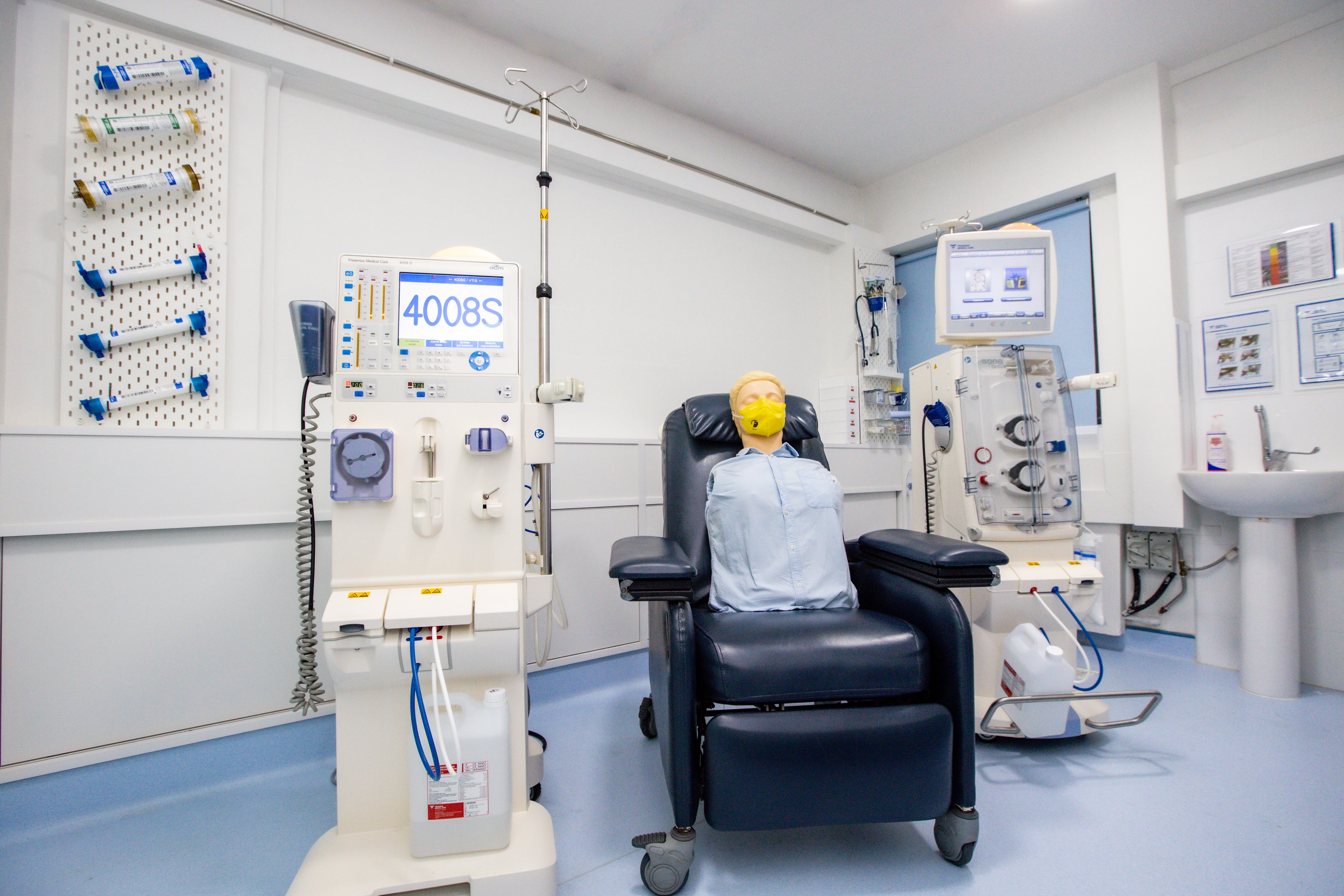 Nursing Educational Programme Accredited by the National Nursing Academy (NNA)
At Fresenius Medical Care Singapore, our vision is 'Creating a future worth living for patients worldwide, every day'. To achieve this, the Fresenius Kidney Care Academy was established to support nurses' knowledge and skills development in the clinical specialty of dialysis/ nephrology nursing, from novice to competent/expert level of practice.

The Renal Nurse Foundation Programme (RNFP), accredited by the NNA, has been specially designed for novice dialysis nurses in a safe environment by linking theory and practice.
The RNFP is a 7-week course which focuses on 4 key learning modules-patient profile, clinical quality, dialysis principles and renal nursing and patient care. It also include a 2-week attachment at one of our Fresenius Kidney Care dialysis clinics.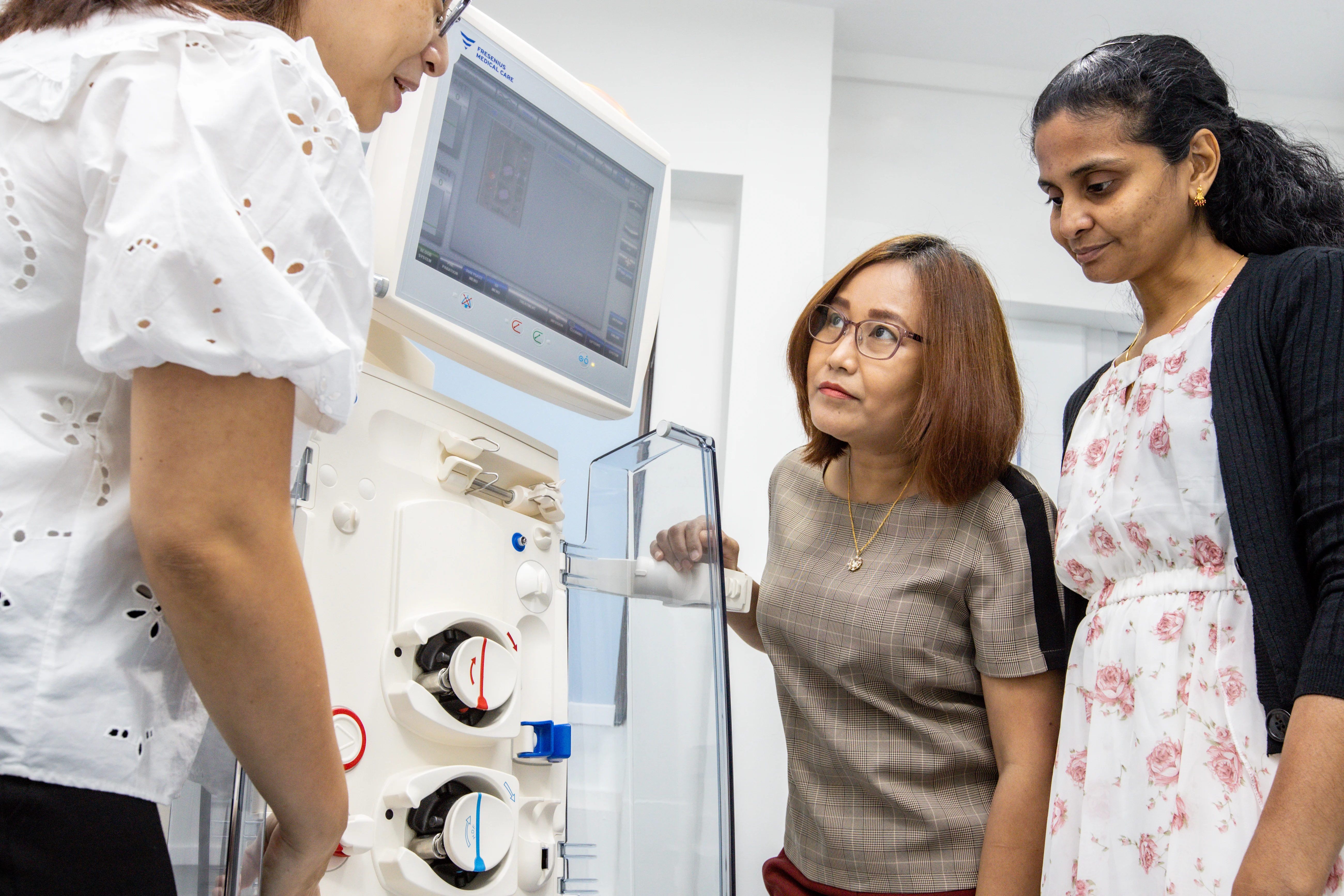 For more information please feel free to contact us at
FKCAcademy.sg@fmc-asia.com