Creating a future worth living for patients worldwide, every day
Fresenius Medical Care is the world's leading provider of products and services for people with chronic kidney failure.
Company Profile
Fresenius Medical Care is the world's leading provider of products and services for people with chronic kidney failure. Around 3.7 million patients with this disease worldwide regularly undergo dialysis treatment. Dialysis is a vital blood cleansing procedure that substitutes the function of the kidney in case of kidney failure.
We care for more than 346,500 patients in our global network of more than 4,000 dialysis clinics. At the same time, we operate 44 production sites on all continents, to provide dialysis products such as dialysis machines, dialyzers and related disposables.
Our strategy is geared toward sustainable growth. We aim to continuously improve the quality of life of patients with kidney disease by offering innovative products and treatment concepts of the highest quality.
Fresenius Medical Care's corporate headquarters are in Bad Homburg v.d.H., Germany. The headquarters of North America are in Waltham, Massachusetts and the headquarters of Asia-Pacific are located in Hong Kong.
Fresenius Medical Care in Singapore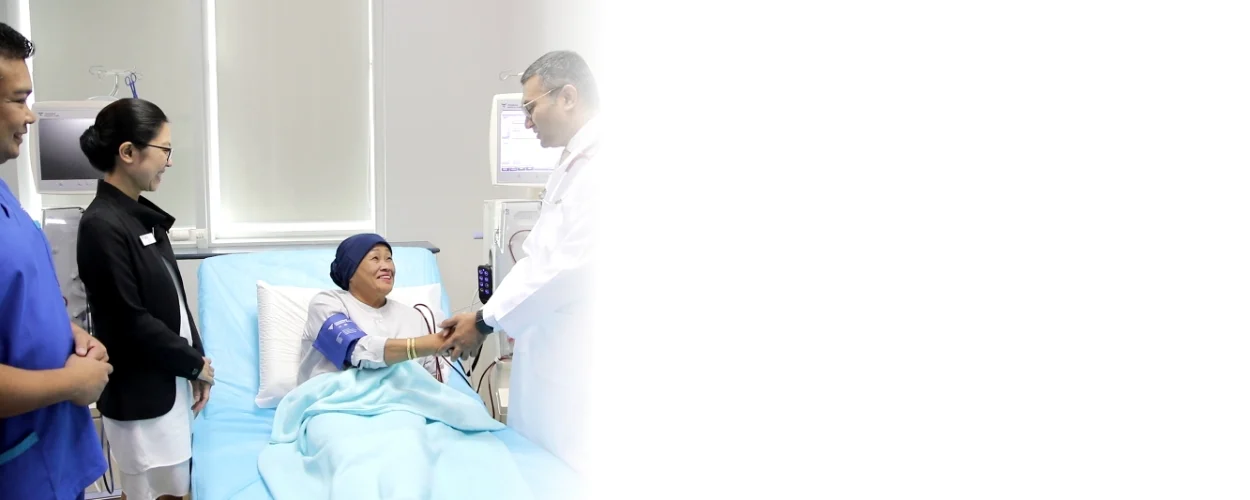 Fresenius Medical Care is committed to developing and providing complete support for Fresenius products, therapies and customers in Singapore.
Fresenius Medical Care Singapore has been providing dialysis products and life-saving therapies since 1997 with a simple yet powerful mission: To improve the quality of life for people living with chronic kidney disease. We are the largest private provider of dialysis treatments in the country, with a team of around 380 employees caring for more than 1,800 patients across a network of 33 dialysis clinics and home dialysis programs. At our haemodialysis treatment and services division, Fresenius Kidney Care, we assist each patient during their dialysis journey to lead a meaningful and fulfilling life. Our goal is to help people live the healthiest, fullest life possible with therapies and services that provide better treatment outcomes. Patients are supported by a dedicated team of clinic staff who supply an excellent level of care and attention that focuses on people's individual needs.
Our dialysis centers – Fresenius Kidney Care
Within our network of dialysis centers and through our home patient programs, you can expect high standards of patient care. Our centers are assessed against stringent quality and healthcare standards, in addition to strict clinical processes, assuring safe and high-quality care for our patients.

Most of our dialysis centers are also internationally accredited by the Australian Council on Healthcare Standards International (ACHSI), the leading international accreditation body.

At Fresenius Kidney Care, we support patients by addressing both the physical and emotional aspects of kidney disease through personalized care, education and lifestyle support services so they can lead meaningful and fulfilling lives.

To meet patients' needs we provide renal replacement therapies, and offer a variety of integrated care services in most of our clinics such as regular blood tests, vascular access service, treatment of anemia, and fluid status monitoring. We always strive to ensure a positive experience to all who visit our centers and to make the dialysis treatment as comfortable as possible.

Watch this short video which provides a great overview of our Fresenius Kidney Care dialysis centers.

A focus beyond dialysis
We take social responsibility seriously. Our efforts beyond dialysis range from community education about good kidney health, to raising awareness of chronic kidney disease and its risks, to lending a helping hand to organizations such as Kidney Dialysis Foundation (KDF), National Kidney Foundation (NKF) and events such as World Kidney Day.

One of the most recent Corporate Social Responsibility (CSR) initiatives by Fresenius Medical Care is the 'Kidney Kid'. It is a global campaign designed to raise awareness about kidney health among children and their families. Chronic kidney disease (CKD) affects millions of people worldwide; and good renal health should start early. THE KIDNEY KID website and its resources are designed to 'edutain' (educate + entertain) about the kidneys and how to take care of them, in a fun and interactive way.
To find out more, visit The Kidney Kid website.